Remove Microsoft virus
What is a Microsoft virus
Microsoft virus refers to a number of infections that use Microsoft's name to trick users, generally tech-support scams. We'll be mostly talking about scams that are made to appear like they're legitimate Windows alerts in order to trick users into calling fake tech-support or installing bogus anti-virus programs.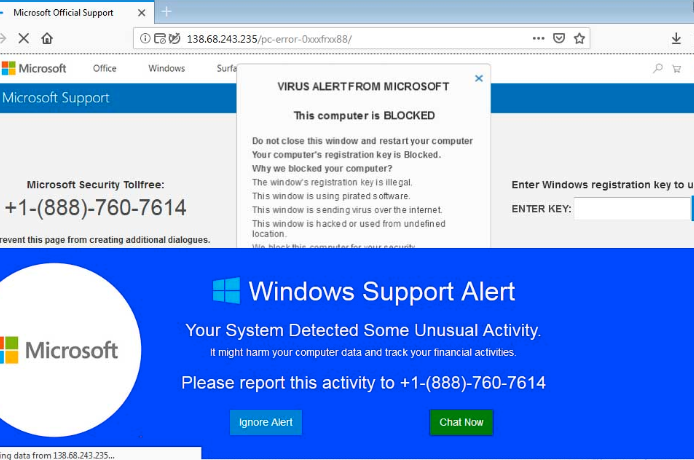 These so-called Microsoft viruses are very common, and there are many somewhat different versions, such as PORNOGRAPHIC VIRUS ALERT FROM MICROSOFT, Microsoft warning alert, VIRUS ALERT FROM MICROSOFT, and Microsoft critical alert. They're more of less the same, they just warn about a slightly different thing or have a different phone number displayed. The good thing is if you've seen one, you've basically seen them all.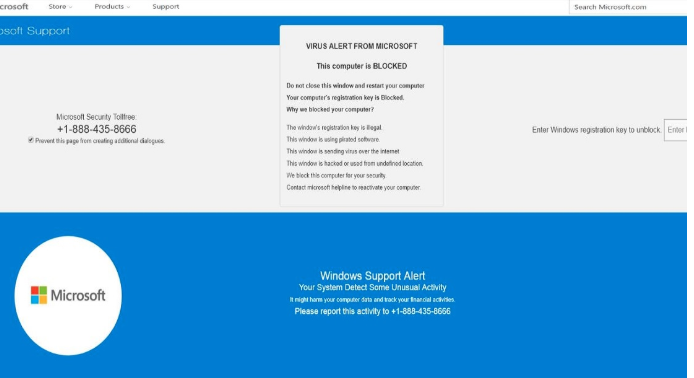 Microsoft viruses usually refer to tech-support scams, which are basically fake alerts that warn you about an infection on your computer and recommend you call the displayed number to get "professional" technical support. The reason they are called tech-support scams is because scammers pretend to be legitimate tech-support while scamming users. While simply calling them may be harmless enough, users who fall for this could end up paying hundreds of dollars for nothing, have their files stolen/deleted, or their computers locked for ransom. YouTube is full of videos demonstrating how exactly these scams works for those who want to learn more.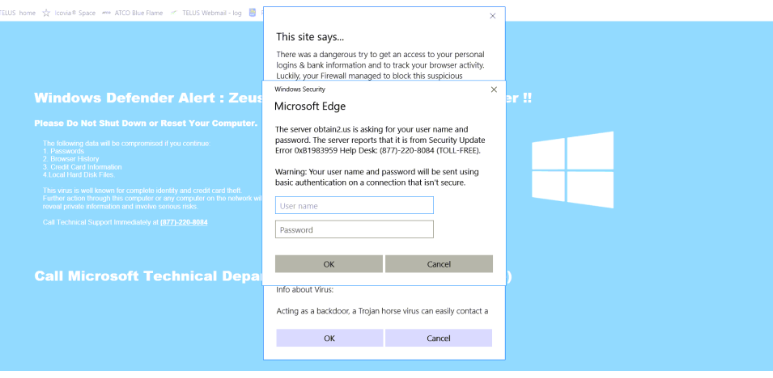 What causes Microsoft virus scams to pop up?
If you encounter one of these scams, you may wonder what caused it. It's likely that you were either redirected by the site you were visiting, or your computer is infected with adware.
A lot of adult, not exactly legal free streaming, and other sites allow questionable ads and redirect users to weird sites. Those weird sites could include these scams. You can usually prevent these redirects by simply adding adblocker to your browser. Make sure it blocks pop-ups and prevents you from being redirected.
Another reason you could be redirected is adware. Adware is a minor, albeit a very annoying infection that aims to make revenue by showing you ads and redirecting you. It could be responsible for redirecting you to these scams as well. Users usually install adware themselves, although they do it unknowingly. It comes attached to free software as an extra offer, and is attached in a way that allows it to install alongside without you even knowing.
When you are installing freeware, you need to pay attention to the process. Otherwise, your computer will be filled with junk programs. During installation, choose Advanced (Custom) settings when given the option. Those settings will make all offers visible and you will have the option of deselecting all of them. All you really need to do is uncheck the boxes. We suggest doing this with all programs you install, seeing as the majority of them will have stuff attached.
If it is adware that is causing you to get redirected, you will need to get rid of it first to remove Microsoft virus from your screen.
Types of Microsoft virus
Like we said above, Microsoft virus is not one specific infection, it refers to a variety of somewhat similar scams. While they're more of less the same in the sense that they try to trick you downloading questionable programs and calling scam numbers, we feel it's necessary to describe some of them in more detail. Here are the most common Microsoft viruses.
PORNOGRAPHIC VIRUS ALERT FROM MICROSOFT
This is a very common one, and when you are redirected to the site displaying it, you are informed that because you have been browsing unsafe pornographic websites, your computer is now locked for your security. Supposedly, your computer is infected with some kind of malware and you need to call the displayed number to get technical support and fix the issue.
Seeing as this is a scam, if you were to call the number you would be connected to professional scammers. They usually introduce themselves as legitimate tech-support technicians working for Microsoft. They would ask you to provide them remote access to your computer so they can "fix" everything for you. If you allow them, they will steal or delete your files, install weird programs and ask you to pay for them, and possibly lock your computer unless you agree to pay money.
Microsoft warning alert/Microsoft critical alert
This is a similar alert to the pornographic one. It says that because you have been browsing pornography sites, your computer is now infected with spyware or riskware. It also asks that users not close the alert because "computer connection and system work will be disabled".
Just like the previous scam, it displays a phone number for supposed technical support but if users were to call the number, they would be dealing with professional scammers. So obviously, calling is not recommended.
VIRUS ALERT FROM MICROSOFT
Again, this is a fake alert that greatly resembles the two previously described ones. It claims that your computer has been locked because of a malicious infection and calling the shown number is the only way to fix it.
This particular tech-support scams mentions a lot of ridiculous things, such as you spreading the infection on the Internet, that your computer is blocked by Microsoft to stop the infection from spreading, and that your files are being stolen. None of the claims it mentions are true, and you certainly do not need to call the number.
Your Windows computer has been blocked/Microsoft has blocked your PC
These tech-support scams claim that your computer has been blocked by Microsoft because supposedly your computer is causing damage to their network. This does not make any sense because Microsoft does not keep track of which computer is infected, nor do they block computers because of infections.
In addition to saying that the computer has been blocked, the alert also claims that social media login credentials as well as photos are being leaked. To stop this, the alert advises users to call the number to get tech-support. Again, this is a fake alert and all its claims are untrue.
Microsoft has detected suspicious activity
This fake alert claims that Microsoft has detected suspicious activity on your computer, which resulted in access to the device being revoked. Just like other tech-support scams, it also claims that your personal data and files are in danger. It asks that you call the provided number to fix the issues. And like with other mentioned scams, if you were to call, you'd be connected to professional scammers.
Validate copy of your Microsoft Windows
This scam claims that your copy of windows is not legitimate and cannot be validated, thus your computer been supposedly blocked. To validate your copy and unblock your computer, you are asked to call the provided number. And as always, the phone number is for professional scammers.
Do no trust alert with phone numbers
We should first mention that Microsoft does not block computers because of malware infections. It does not keep track of which computers are infected, nor does the company actually care.
Microsoft also does not show you pop-ups that ask you to call their technical support. They do not make unsolicited contact. If you see a pop-up claiming to be from Microsoft and it displays a phone number, it's a scam, likely one of the Microsoft virus. 

Legitimate notifications about an infection on your computer will come from your anti-virus programs, never your browser.
How do you remove a Microsoft virus
If you were randomly redirected by the site you were on, closing the window will be enough. You should also use adblocker when browsing to prevent these pop-ups and redirects.
However, if the pop-ups are randomly appearing, you may be dealing with adware. If that is the case, you first need to remove the adware to delete Microsoft virus alerts permanently. We suggest using anti-spyware software for that.
Site Disclaimer
WiperSoft.com is not sponsored, affiliated, linked to or owned by malware developers or distributors that are referred to in this article. The article does NOT endorse or promote malicious programs. The intention behind it is to present useful information that will help users to detect and eliminate malware from their computer by using WiperSoft and/or the manual removal guide.
The article should only be used for educational purposes. If you follow the instructions provided in the article, you agree to be bound by this disclaimer. We do not guarantee that the article will aid you in completely removing the malware from your PC. Malicious programs are constantly developing, which is why it is not always easy or possible to clean the computer by using only the manual removal guide.