Wipersoft Represent ACESO Network
Since its release 3 years ago, our centralized anti-malware software WiperSoft has attracted over 1 million users in 100 different countries. While the program has been a success, we want to take protection against malware to the next level by using blockchain. This is where ACESO comes in, a user to user cyber threat intelligence platform. What exactly is ACESO, you ask? Well, allow us to explain.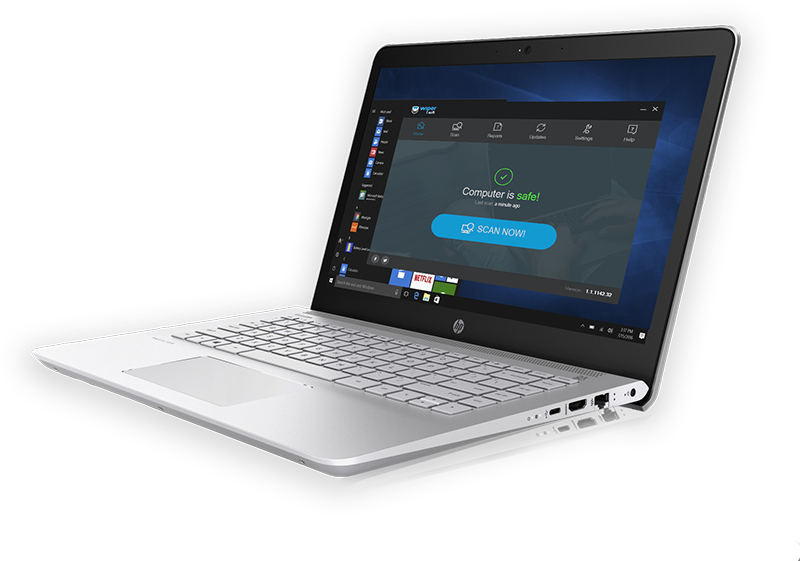 What is ACESO Network?
ACESO  is, in simple words, a platform which aims to decrease the expenses of protecting a computer from malware to a minimum. ACESO introduces the idea of paying for a malware fix instead of anti-virus software. Users dealing with malware will be able to make requests for fixes, which will be developed by cybersecurity specialists. An infected user requests a fix for malware, a researcher provides said malware samples, and a malware analyst develops a fix for that malware. Both the researcher and the malware analyst will be rewarded for their work.
So how will that work exactly? First we should introduce the ACESO token, which is a crucial part of the platform. Tokens will allow users to pay for malware fixes in a secure way, and they will also be offered as rewards to cybersecurity experts. ACESO users will be recommended to always have tokens because just having them provides a certain level of security. Token holders will be able to use the ACESO program which will work much like an anti-virus program. As long as a user is in possession of tokens, he/she will be able to use the program. Tokens will only be used when requesting a malware fix or facing an ongoing attack.
There are four main participants in the ACESO platform: the End User, Researcher, Malware Analyst, and ACESO.
End User – the infected user who requests a malware fix;
Researcher – a user who provides malware samples;
Malware Analyst – a user who provides malware fixes;
ACESO – the middleman.
Researchers can continually submit malware samples but they will only be rewarded when a sample matches a submitted malware fix request. When an end user submits a request, a malware analyst takes the information from the user, as well as the malware sample submitted by a researcher, and develops a fix. When the fix is successfully applied, the end user's offered reward is split between the researcher (30%), malware analyst (60%) and ACESO (10%). If the same fix can be applied to other users, their rewards are given to the same researchers and analysts.
ACESO will also work as an anti-virus program. It will allow users to scan their devices, and it will notify users if an infection is present. For token holders, it will also provide additional security. As long as a user has tokens, he/she will be able to use file guard, network traffic control, parental control and ad block features. These additional features do not cost anything, they are a bonus that comes with obtaining tokens.
This is just the basic summary of how it works. The full idea behind ACESO is too complex to explain in its entirety in this article, but the whitepaper provides all the necessary details.
What problems is ACESO aiming to solve?
You might be wondering what's wrong with traditional security measures, or anti-virus programs. They do provide a certain layer of security, and not many will argue their usefulness. But are they enough?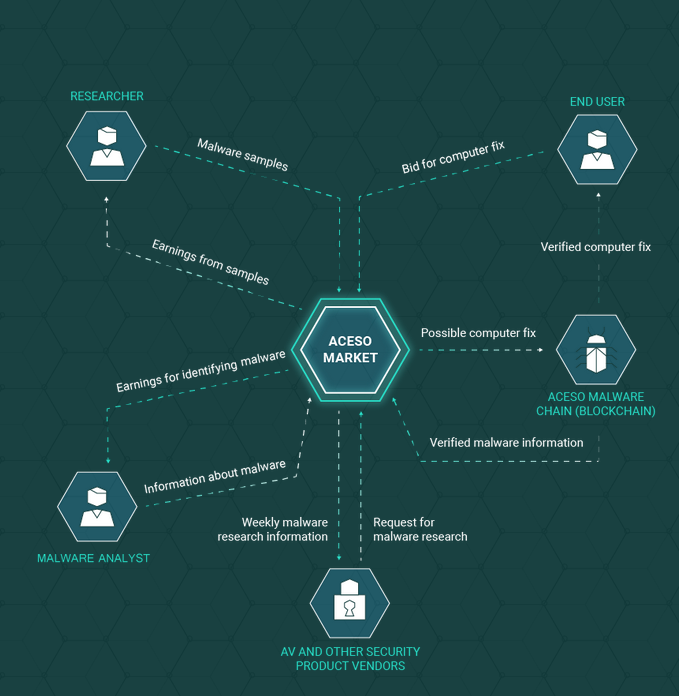 Computer users often choose to not use security tools, and one of the reasons why is their price. While there are plenty of anti-virus vendors that offer free trials, they are not enough to adequately protect a computer. On average, a security program can cost up to $50, renewed every 6 or 12 months. For a year's worth of subscription, $50 isn't really all that much. However, many users end up purchasing the software and only using it once to deal with some kind of infection. That's $50 for one fix! While a subscription does provide constant security, there is no guarantee you will get an infection again. Would it not be better to have a program that monitors your computer for free and only requires payment when you need to get rid of malware? That way, you're not paying for software, you're paying for a fix. That's what ACESO is all about. Users would pay only when they are getting rid of malware or dealing with an ongoing threat. This would make cybersecurity affordable to everyone. And affordable cybersecurity would make the cyber world a much safer place for all.
In addition, anti-virus software detection rate is not 100%. There are countless entries on various forums about users noticing unusual, possibly malicious behavior, but their security programs not picking up on anything suspicious. In addition, popular anti-virus vendors generally focus on very widespread infections which affect thousands of people. While you can't blame them for prioritizing, it leaves users with smaller infections unprotected. They may have to wait days or even weeks for a particular threat to be added to an anti-virus database. ACESO would be able to deal with even the smallest issues much more quickly and efficiently compared to traditional anti-malware solutions because users will be able to make requests for fixes. In addition, because of how ACESO works, cybersecurity experts will be more inclined to create fixes as quickly as possible, as the first with the correct solution will get the reward.
Who benefits from using ACESO?
Using ACESO is basically a win-win situation for everyone. Users will have the option of paying for a malware fix instead of anti-malware software. Because buying one fix will be much cheaper, cybersecurity will become affordable to everyone, which is highly important to ACESO. Using ACESO will also be very useful to cybersecurity specialists because they will be able to earn money in their spare time by helping the infected users. The quick manner in which cybersecurity specialists will develop fixes will particularly benefit regular users, as malware will be stopped before it can do damage. This is ensured by the competitive market where the first analyst with a working malware fix gets the reward.
ACESO offers an innovative method to fight the growing malware problem. It makes dealing with malware affordable to everyone, which builds a safer cyber world to all. Malware is constantly evolving, and if the cybersecurity industry wants to stand a chance, it needs to change. And ACESO offers that much needed change.
Learn more:
Site Disclaimer
WiperSoft.com is not sponsored, affiliated, linked to or owned by malware developers or distributors that are referred to in this article. The article does NOT endorse or promote malicious programs. The intention behind it is to present useful information that will help users to detect and eliminate malware from their computer by using WiperSoft and/or the manual removal guide.
The article should only be used for educational purposes. If you follow the instructions provided in the article, you agree to be bound by this disclaimer. We do not guarantee that the article will aid you in completely removing the malware from your PC. Malicious programs are constantly developing, which is why it is not always easy or possible to clean the computer by using only the manual removal guide.